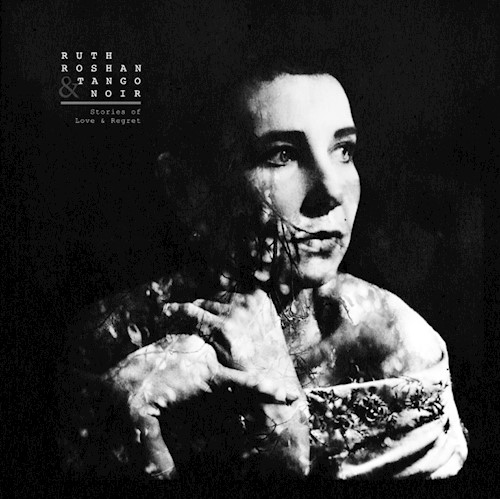 "Silent movies in black and white with smoke drifting across couples embracing to the Tango - this is the scene that Ruth paints with her music."
Ruth Roshan & Tango Noir have just released their third, original album, "Stories of Love and Regret". Influenced by European tango and waltz and evoking the atmosphere of a 1930's French Salon, this recording combines lush arrangements with Ruth's bittersweet lyrics to create music which is both elegant and beautiful, new and nostalgic.
Featuring:
Ruth Roshan (Vocals, Mandolin), Amir Farid (Piano), Phil Carroll (Accordion, Flute), Aaron Barnden (Violin), Caerwen Martin (Cello) and special guest, Philip Rex on Double Bass.
CD Distribution:
                      Distributed by The Planet Company. www.theplanetcompany.com Catalogue No: RRTN01
Album Recognition:
CD of the Week - 3MBS Radio (Melbourne)
CD of the Week - Eastside Radio (Sydney)
CD of the Week – Artsound FM (Canberra)
CD of the Week – Thomas' Music (Melbourne)
PBS Recommends (Melbourne)
On the Veranda with Julia Lester – ABC Classic FM (National)
Nominated for a 2015 The Age/Music Victoria genre award (global/reggae)
Top 10 albums of the year (Billy Pinnell, Rhythms Magazine)
"Beautiful, beautiful music"
"Ruth Roshan & Tango Noir have done it again. It's their third album, it's gorgeous ... the entire album is yet another piece of brilliance." Roots & Fusion - Pure Radio (UK)
"I play it at home a lot.  It's a really lovely album. I don't know what quite it is, they've just captured something which is special and you want to keep playing it."  Julia Lester - ABC Classic FM
"(Ruth's) instrument, the mandolin, is beautiful and so exotic ... The music evokes some beautiful images ... made me feel like I'm on a Fellini set" Sigrid Hohl - Eclectic Ladyland PBS 107.5 FM
"The album affirms the distinctive rich Tango Noir sound and Ruth's poetic flair." Graham Hawkes - RTR FM 92.1 FM
"We have Ruth's brilliant, brilliant 3rd album as our album of the week."
"Absolutely gorgeous … it really is just a beautiful album" Virginia Lowe – Eastside FM
Contact: ruthroshan@gmail.com, +61 (0)418 100 889, www.ruthroshan.com
CD Orders: www.theplanetcompany.com (Catalogue No. RRTN01)